When you create a meeting in Microsoft Teams, you can now change your meeting settings to allow participants to bypass the lobby, turn off meeting chat and prevent participants from presenting. This can be useful when running a formal presentation or training and you need to manage what your participants can and can't do.
Once you have scheduled your meeting in Microsoft Teams, open the meeting in your calendar and you will see meeting options:
This will open a browser with some meeting options:
When you select the drop-down next to "Who can bypass the lobby" you can choose to allow certain participants to bypass the lobby.
You can choose to let everyone bypass, which means anyone who joins the meeting will not be required to be admitted in. This includes external users such as personal email accounts. You can chose to allow people in your organisation, trusted organisations (this is determined by your IT Admin) and guests or require everyone to wait in the lobby by choosing only me.
Announce when callers join or leave refers to when participants join by dialing into the meeting. Teams will announce the caller when they dial into the meeting and when they exit.
You can also choose who can present in your meeting. If you are running a training session or a formal presentation, you might want to prevent others from being able to present their screens:
If needed, you can stop participants from unmuting themselves during the meeting. This is particularly useful for lectures where there are a large number of students joining the meeting, or if you are running a formal webinar.
And finally, a new addition is the control over the meeting chat. You can turn chat on or off, or allow meeting chat for the duration of the meeting only, and not remain in participants chat history once the meeting has ended.
You can change these settings before I join the meeting by accessing meeting options in the Teams calendar, or change them during the meeting by clicking on the three dots in your toolbar, and selecting meeting options. This will open a panel on the right hand side of your Teams meeting with the same options to change: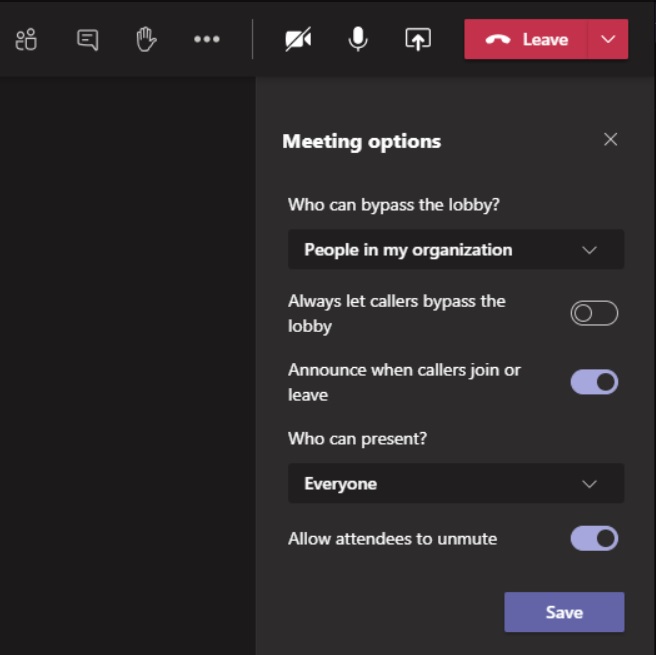 Make sure you check out my latest how-to video on using the Whiteboard app in Microsoft Teams meetings: